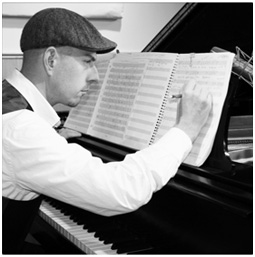 Justus Dobrin is a composer, producer, engineer, songwriter and pianist located in the San Francisco Bay Area. His work has been featured in television, film, advertising and the Internet. Formally trained at the Berklee College of Music, Justus studied arranging and orchestration alongside a performance focus in jazz and contemporary piano. He furthered his education in recording engineering at CSU San Francisco's Avid Pro Tools Training Program. Dedicated to creating unique and compelling original music, Justus founded Nine Dragons Studios in 2009.
Justus became involved in music at very young age. Classically trained on piano from the age of seven, he began writing and recording original music as teenager. Influenced by the musical diversity of his native Bay Area, Justus continues to perform and write in a wide variety of genres including jazz, pop, gospel, R&B, rock, electronica and hip-hop.

Contact Justus and 9DS

Justus is a SONGS PUBLISHING Songwriter

"Music expresses that which cannot be put into words and that which cannot remain silent"- Victor Hugo
When we create an original composition for a client, whether advertisement, TV spot or film, Nine Dragons strives to craft cinematic-quality accompaniment.
It's more than just 'background incidental…' – it should create a powerful emotional connection to the story. Music and sound have a tremendous ability to shape and define our experiences. Utilizing a nuanced approach to address our complex cultural lexicon, Nine Dragons Studios designs the right 'language' to reach your audience.
Click track titles to play
Select multiple to automatically create a playlist.
Sep 2012
"Depend on Me" (Franc Wyte) - Wake Brothers / MTV
May 2012
"Brown and Orange" - America's Best Dance Crew / MTV
"Have a Drink" - America's Best Dance Crew / MTV
Apr 2012
"Club Drama" - America's Best Dance Crew / MTV
"Dr. Timbermann" - America's Best Dance Crew / MTV
Mar 2012
"Wilderness Family 3" - Trailer/ Lionsgate Films
Jan 2012
"Philly Bound and Down" - Comedy Central/ Kevin Hart - Laugh At My Pain
"KreamCheez Soul" - Comedy Central/ Kevin Hart- Laugh At My Pain
Nov 2011
"Friday Night" - NBC's The Sing Off

<!- end of Fancy Music Player -->
Select tracks to create a playlist.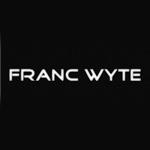 Franc Wyte
Franc Wyte is the collaborative effort of Justus Dobrin and Luqman Frank. Luq and Justus grew up in Oakland, CA and met in high school. They wrote together as teens and reconnected in 2010, bringing decades of writing and performing experience to their new project. Franc Wyte combines the gritty, blues-driven soul sounds of the 1960's Stax Records catalog with their love of the golden age of hip-hop. Neo-vintage future funk meets East Bay Grease in a compelling, modern songwriting format; big swagger vocals and tight beats make for good time, get down music.

facebook.com/francwyte

twitter.com/francwyte

Songs Publishing
Click track titles to play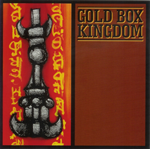 Gold Box Kingdom
Adult alternative pop/rock duo creates songs that range from confessional folk pop to cathartic trip hop. Songs are confident and provocative or bittersweet and brooding with unforgettable hooks. Sensual trip hop and atmospheric folk-pop come together here; sometimes brooding and enigmatic, sometimes passionate and ethereal.
Click track titles to play

Slide 1

Slide 2

Slide 3

Slide 4

Slide 5

Slide 6

Slide 7

Slide 8

Slide 9

Slide 10

Slide 11

Slide 12